Since I was a little girl, I've always loved telling stories, and I adore film; who doesn't? Recently, I decided to try and tell stories via film. My partner Eve's life inspired me, and she graciously agreed to be my subject.

So, with my first film Return to Narbutta Street, I wanted to explore memory and the ways that we re-imagine and re-write our own life stories over time. Two themes absorbed me: return to places from the past, and what a child experiences when normal family life is abruptly ended by war. Perhaps this glimpse into Eve's life will remind you of your own childhood memories.
Return to Narbutta Street is about Eve Zaremba's return to her childhood home in Warsaw.  Below is the link to the film which is in English with Polish subtitles.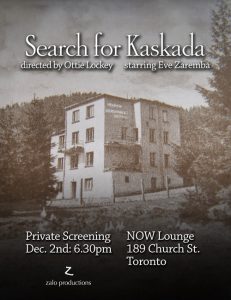 My second short film Search for Kaskada is a road trip in Poland featuring Eve and myself as we hunt for Eve's grandmother's cottage. Although 75 years have gone by, Eve hopes to find this magical place in the mountains, but there is only one clue: the name "Kaskada".  Senior lesbians navigating by car, in a foreign country, have moments of frustration, humour, and serendipity.   Below is the link to Search for Kaskada.  The film is mostly in English with subtitles in Polish.
Search for Kaskada and Return to Narbutta Street were for several years part of the extensive archive of the Gdynia Museum of Emigration, which also included interviews with Eve and still photos. To our regret, that archive was eliminated in 2018.
Future Plans
We are in post-production for a short documentary titled "Eve Zaremba's Dyke Detective: an Origin Story" directed by Two-spirited, Red River Basin Métis film maker Nadine Arpin. Helen Keremos, the first lesbian detective, reappears 20 years after retirement, through conversations between author Eve Zaremba and filmmaker Nadine Arpin. Arpin wants to bring the fictional character Helen Keremos to a town in North West Ontario to work on cases involving Indigenous women.